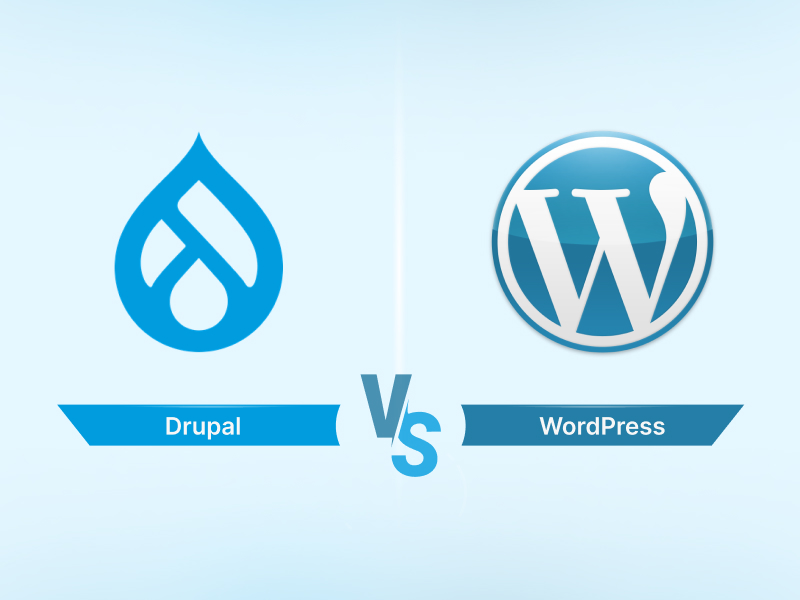 Do you want to create a new website and are struggling to pick a side in the Drupal vs WordPress battle?
Well, while the choice depends on your requirements and resources, here's a guide to help.
Consider this side-by-side comparison to make a well-informed decision.
Drupal vs WordPress: A Comprehensive View
We've seen that when people complain that Drupal is difficult to use, they typically contrast it with WordPress, another well-liked content management system. There are tens of thousands of results for Drupal vs WordPress on the internet, most of which come from businesses that focus on one or the other.
Due to the similarities between Drupal and WordPress, they are frequently grouped. Both are open source, free to use, have a sizable plugin and module library to add further functionality and have a devoted user and developer base.
Both Drupal and WordPress are trustworthy content management systems, loaded with SEO, digital asset management, and multichannel publishing technologies.
While WordPress is known for it's easy-to-use interface, Drupal, on the other hand, has a larger learning curve but is a more adaptable option.
Drupal is a free, open-source content management system currently managing a huge percentage of the CMS market. Because of its emphasis on agility and greater customization, Drupal is positioned as a platform for more seasoned users and developers rather than for beginners.
Drupal powers more than a million websites across a wide range of niches. Many significant departments of global socio-economic communities rely on Drupal to maintain the security and agility of their websites. Here are a few instances of websites powered by the Drupal platform:
Nasdaq
Colorado State University
Group Financial Principals
Tesla NPR The White House
This widely used content management system is free and open-source. It is a platform that is incredibly user-friendly and currently powers around 33% of all websites on the internet. There are many third-party plugins available for WordPress that may be used to administer your website, add content, and enhance overall functionality.
WordPress is the greatest option for bloggers who want to create a website quickly and with little to no experience because it features expertly built-themes and simple-to-use block editors. Here are some instances of websites that make use of WordPress's flexible customization possibilities and user-friendly content management system
Disney Company, Inc.
Sonic Arts
NBC Universal
Company of The New York Times
Mercedes-Benz \sTechCrunch
A comparison is better when it considers specific essential qualities to aid the reader in understanding the most important regions. Here, we've done a Drupal vs WordPress review covering five of the most essential development features.
End to End User Experience
WordPress is renowned for being incredibly user-friendly and simple for non-technical users to use and maintain. With the many themes and plugins available, this capability is included right out of the box.
Although Drupal does not have a strong reputation for usability, a user-friendly backend can nevertheless be created. Like a blank canvas, Drupal's structure requires that admin interfaces and workflows be built up and planned in advance. One thing to keep in mind is that managing a sophisticated website or application built on Drupal will require a steeper learning curve.
If you're someone who isn't quite well-versed with coding fundamentals, you'd most likely require additional assistance while working with Drupal. WordPress, on the other hand, facilitates for most of your requirements using simple drag-and-drop actions.
Security
The primary distinction between Drupal and WordPress is security.
Drupal has a lower risk of being hacked because they have a lesser market share and the majority of security flaws occur in the smaller plugin and theme ecosystem. It is used to create many government websites, with Whitehouse.gov serving as its flagship for many years.
WordPress may be highly secure if you are ready to take the necessary precautions to safeguard your website. The WordPress core is quite secure. However, failing to thoroughly check your plugins and themes can expose your website to danger.
Platform-specific hosting applications have been more prevalent over the last few years, and they can help you manage your security concerns. Our top picks are Acquia and Pantheon (for Drupal) and WP Engine (for WordPress).
Ease of Use
Drupal isn't difficult to use, but learning how to utilize it might be challenging. While it requires more technical know-how than WordPress, it can create more sophisticated sites.
Significant enhancements have been made to Drupal that have made the platform simpler for non-developers to use. Content editing has become a key initiative in the Drupal community in recent years.
Drupal's long-standing editor is being replaced by the CKEditor, which offers a drag-and-drop user interface and a module that enables users to incorporate other resources such as videos, photos, tweets, and more through the editor. In-line editing, often known as Quick Edit, is another feature that enables editing on the website's front end.
WordPress is simpler to learn if you have little experience with website construction. It is user-friendly and offers an intuitive admin interface, making it nearly natural to manage a website from there.
Content Distribution
It's important to consider how well WordPress and Drupal can disseminate content across all conceivable digital channels when contrasting the two platforms.
In this instance, Drupal just acts as a data repository, sending information to any front end that requests it. Android software? a website program? No issue. No matter what platform or gadget is used to see your website, it will appear good and work properly.
Even when your site expands, this won't change how it appears on various front ends. However, a Drupal site's decoupling can be difficult. It is the way to go if you intend to publish your content across many media.
WordPress has its main goal of creating websites and thus it has to be used with caution if you're developing a sophisticated web application that must deliver information to numerous front-ends.
That being said, WordPress's core code includes decoupling features as well. As a result, you can construct your website's front end independently of its back end using any front-end library or framework.
Accessibility
Regarding a CMS, the entry barrier is crucial. A content management system must cater to everyone, thus a flexible platform is better to one that only supports seasoned developers.
Drupal is a content management system (CMS) for users who can overcome the high barrier to entry with more sophisticated coding experience; it is not a platform for beginners. Learning Drupal takes a long time because its setup takes longer than WordPress firms charge more for Drupal sites. Having tons of options, it is wonderful for experts but bewildering for beginners. That being said, once you get the hang of it, working with Drupal becomes simple, intuitive, and generally more rewarding.
WordPress is able to strike a balance between customization and accessibility. The WordPress community prefers the older and simpler "functional programming". WordPress provides easy access to the majority of common and useful features. If you're not looking for intricate integrations and dynamic website elements, there's a good chance that WordPress would meet all of your needs easily.
Furthermore, with WordPress, there are no restrictions to growing beyond basic capabilities through the use of custom theme and plugin development.
Making a Decision
We created this Drupal vs WordPress comparison because it can be difficult to decide between the two most popular open-source web applications. Remember, It all boils down to how you respond to the question "What are you attempting to accomplish?"
The finest CMS for your company will be the one that fits your budget, does the tasks you need it to, corresponds to the technical skills of your users, provides solutions that are as sophisticated or straightforward as you require them to be, etc.
Seeking professional assistance for your website development needs? Checkout:
Drupal Development Services | Shivyaanchi
WordPress Development Services | Shivyaanchi