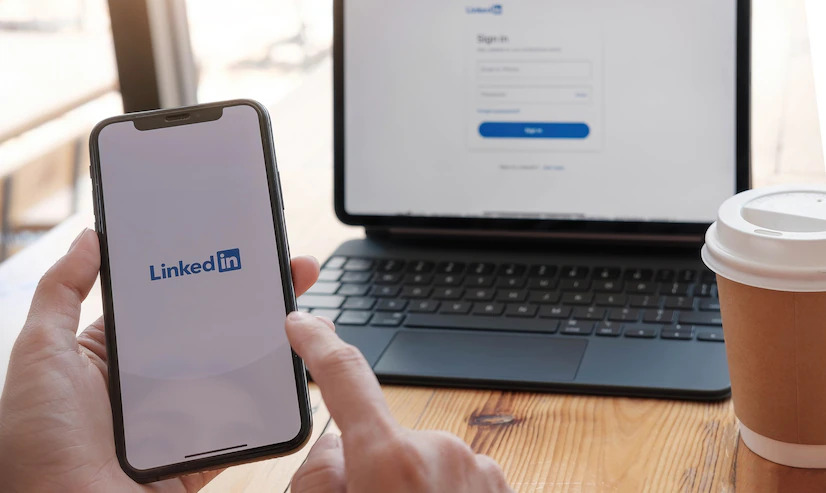 LinkedIn is a great ecosystem for all professional and career aspirations, whether you're seeking a job, producing leads or just looking to learn from peers.
However, consider this:
Whatever your goal is on LinkedIn, it all begins with an exceptional LinkedIn profile. A strong LinkedIn profile will make people want to stop scrolling, convey the proper messaging that you want to put across, and make it possible for you to connect with people who can help you progress in your career/ business goals.
It can get challenging to strengthen your impression in a universe of complete professionalism, no doubt. But, if you get the basics right, and continuously build on top of it, you will see things turning in your favor with time.
Before we jump into the "HOWs", let's understand WHY LinkedIn is important for your brand?
To put it briefly, here are the 4 primary reasons why brands use LinkedIn.
These would come under the categories of:
– Marketing
– Hiring
– Selling
– Learning
Honestly, using LinkedIn is as vital to a brand as breathing since the stronger your LinkedIn profile, the more opportunities you'll have to network with thought leaders, attract the interest of other professionals and discover new opportunities.
Getting to the how now,
HOW CAN YOU GET A STRONG LINKEDIN PROFILE?!
Get the (almost) ideal LinkedIn profile by utilizing the following steps:
1) Nail Your Introduction
We have said this before, we'll say it once more: Start considering your LinkedIn profile as your brand's landing page. By just going through your LinkedIn profile, the user must have a decent understanding of your business fundamentals, messaging, mission, beliefs, visions, and culture.
Be it a company page, company profile, or an individual account, some of the best summaries are driven by passion. Sharing your passions with others gives your brand more context. Think about your professional passions – what motivates you besides money? That is your brand introduction. A good intro can help you reach places that money can't.
2) Compose a Catchy Headline
The very first thing that viewers will read on your profile is your headline, which is situated underneath your name. For early stages, it's fine that the default settings will fill this in with your current position, but you can change it to anything you choose.
Considering that you have 120 characters to deal with, why not make something compelling?
Similarly, for a company page, make sure to include your tagline in the headline.
3) Flaunt your Expertise – with attention to details
Think of the experience section as a more expansive, improved and interactive resume. But always remember, the capacity to integrate multimedia is a SIGNIFICANT distinction between the experience part and your resume. However, take extra care and evaluate the media you share and how it relates to your brand. A strong LinkedIn profile's pictures will draw the most attention, so be sure to include on-point information.
Using attachments (certificates, recommendations, project reports, etc.) and numbers (helped grow incoming leads by x%, leading to a y% YoY growth in inbound marketing) is an underrated tip for your experience section.
4) Go Beyond Text
The best move beyond the rigidity of the "portfolio" such as prior experience and work history, is to creatively spice up your LinkedIn profile. This will allow you to provide potential customers a small taste of who your brand is in your own words.
Do not shy away from adding videos, pictures and presentations you've worked on or content you and your team have produced to make your LinkedIn Description and posts come to life.
We know influencers adding a totally unrelated pic to their post might be irritating to some of us, but that's how you get users to stop scrolling and have a look at what you're talking about.
5) Customize!
The only way for people to perceive your value proposition is if they can find you, so make sure your LinkedIn profile URL accurately reflects your entire name. If that's already taken, add qualifiers like your title or area of expertise or another identifying designation.
Another area where you should definitely be applying some customization is your connection request messages. By taking the extra effort to personalize connection requests, you show consideration for the other person and make yourself more approachable for future contacts. Remember, keep it brief and straightforward, but give specifics on why you think a connection would be beneficial to both sides.
6) Be Active
A strong LinkedIn profile is so much more than just an online resume, it's a networking social media site just like Instagram. That implies that you must continue to be active in order to benefit the most from it.
Explore other people's postings, interact with them with insightful comments, like and share any content that seems to be of value to you. Take active part in discussions, be available for your close-knit network, take part in (or be the host for) offline networking events.
7) Check your LI Profile Strength
You can see a gauge on the right-hand side of your current profile that measures your "Profile Strength." Basically, it's showing you how well you've completed your profile. Achieve an "All-Star" rating on the gauge by adding your professional details. As easy as it seems, one can overlook filling something. With this feature, you can ensure your profile is up-to-date.
8) Master the Art of Storytelling
We at Shivyaanchi believe there are 2 straightforward ways of grabbing attention on LinkedIn:
1) sharing insights and valuable info from your niche
2) sharing stories
Previously, we have helped founders and businesses magnify their following on LinkedIn, by weaving the magic of effective storytelling into their content strategy.
The reasoning for the same is simple: Humans love stories – be it about how you reached a particular stage in your professional journey, or how your brand came into being, or plain narrations of life instances that taught you something.
Stories work like a treat – and you're saying no to quicker results if you deny the same.
We recently helped Magic Inc. with a brand-specific LinkedIn marketing strategy, which helped bring in 6k+ followers for their company page in 2 month's time.
If you're looking to build an optimized LinkedIn profile, powered by an effective content and advertising strategy, but do not have the time to dive into the specifics, we'd love to take over.
Contact us here to discuss how we can help.
Conclusion
A strong tool that is very simple to use and benefit from is LinkedIn. Utilize it to its fullest by optimizing your LinkedIn profile to stand out amongst the competition, market your abilities and support your accomplishments. Visitors should find your page visually appealing and simple to understand who you are and what you can actually accomplish for them professionally. To get a deeper insight on LinkedIn and it's know-hows, visit: