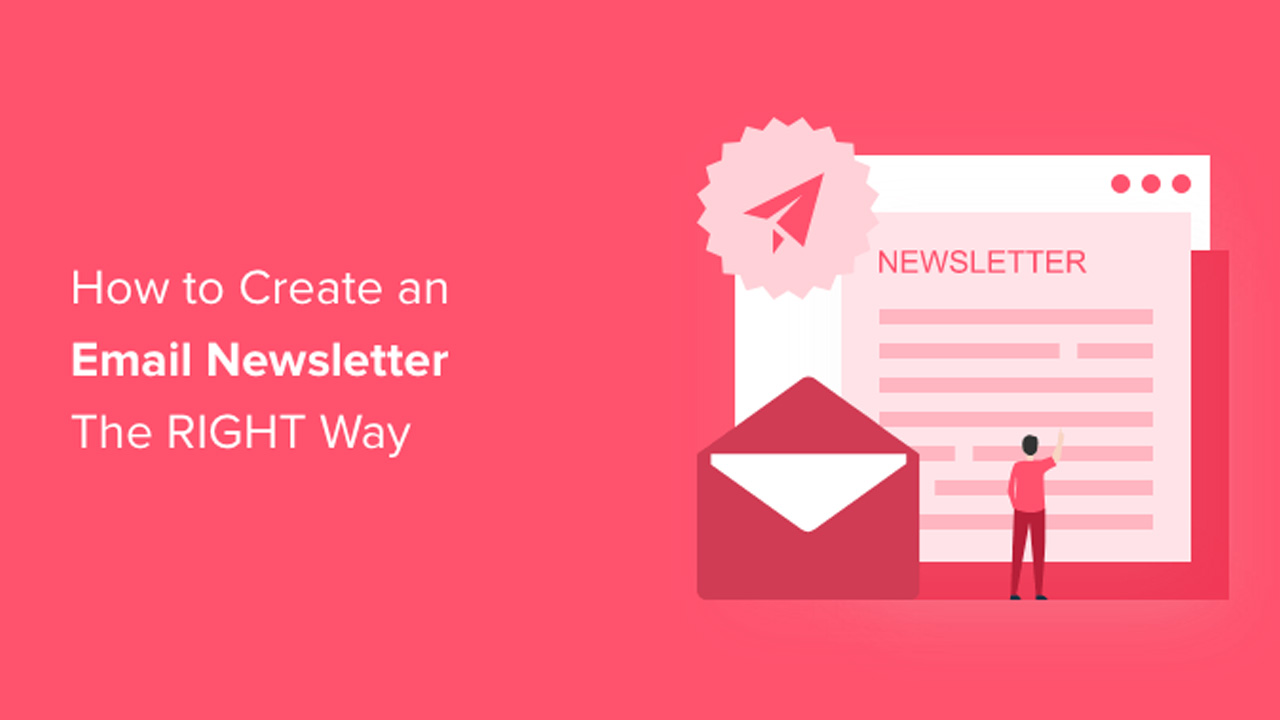 Email marketing is among the most effective strategies for growing your customer base and increasing revenue, so constructing a newsletter is certainly in your best interests.
Newsletters are an ideal method to engage with customers, expand the reach of your brand, and increase sales. They are, without a doubt, an essential component of any effective marketing plan.
Do you want to create an email newsletter for your website, blog, or business? Whether you have a small but active audience or a bigger following that you want to re-activate, this guide will cater to your needs.
So, let us take a dig into the procedure of creating your customized newsletter that will attract an audience.

Set Your Goals
Before you begin creating a newsletter, you should understand your requirements. Successful newsletters are goal-oriented, public viewing, and support a significantly bigger marketing approach.
The very first thing you should consider is the purpose of your newsletter.
Will it be for the purpose of showcasing your industry expertise with target prospects? Is it more of a marketing campaign, with sale news releases and press about innovative products?
Consider what you would like to provide your audience.
You are not required to select just one main objective for your newsletter. On the contrary hand, your newsletter does not have to achieve every goal on the list. Choose and prioritize a few goals, then consider how you can use newsletter content to help you achieve them.

Plan Your Email Newsletter Strategy
Providing actual benefits to your subscribers should be one of your primary concerns when creating a newsletter. Your open and conversion rates will suffer if your campaigns only contain promotional content.
Setting up an email newsletter strategy may sound serious and intimidating, but it just means deciding on some of the specifics of your newsletter before you begin sending emails.
Use your company's existing email marketing tactics as the foundation for your newsletter strategy. If you're starting from scratch, create a document that includes the goals you've set for your audience, then set frequency parameters on a monthly or weekly basis, depending on your availability.
These details will assist you in developing an email marketing strategy that will evolve with time, based on observed results.

Identify & Segment Your Audience
Determining your strategy and gathering content accordingly is easy, the hard part is the identification of the people you want your voice to reach out to.
Your newsletter's audience is the people you want to reach out to and communicate with. Sending targeted emails to specific segments of your email list enables a level of customization and personalization that benefits readers.
"That's all fine, but how do I get people to sign up for my newsletter?"
Don't make the mistake of assuming that people will subscribe to your newsletter out of goodwill; if it's not valuable to them, they'll pass it up.
Mention the advantages of subscribing to your letter. The easiest way is to highlight the framework of your newsletter.

Select a Template & Gather Content 
Making a newsletter is easy, but making sure that it is delivered is a different story.
Doing things manually is out of the question. Even submitting a campaign to a few hundred contact information in Gmail or Outlook is unlikely to reach your subscribers' inboxes. As a result, having dedicated software for email marketing is critical.
Hence, the first essential step in creating a newsletter is to select an email automation tool. Then, to begin creating your newsletter, you must first access the email editor.
Once you've decided on the email marketing service you'll use to create your first newsletter, you'll need to find the email template that best meets your requirements. Have a rough idea of how you would like your newsletter to look in your head.
When it comes to content, you should plan it out by specific topic(s) at least a few months ahead of time to ensure a consistent narrative thread. The more completed subject matter you could perhaps assemble ahead of schedule, the better.
Make a clear, visible call to action somewhere in each email — the action will vary depending on the goal of your newsletter.

Personalize Your Template 
Using a template will give you an idea of how your newsletter will look before writing the copy.
You can easily prepare content in blocks utilizing drag-and-drop editing tools when using a newsletter template, while still being able to customize fonts and colors to match your brand.
Fortunately, most newsletter platforms offer a variety of frameworks and themes that you can customize by swapping out preset colors for a color combination that matches your brand and swapping out normally formed choices for ones that coordinate with the rest of your marketing.

Set Up Your Newsletter List 
The creation of an email list is the most crucial step in the entire process. Making your campaign gain the best possible reach should be your priority.
A contact list of your subscribers is what an email list is. Consider it a directory of all the email addresses of users who signed up for receiving your email newsletter.
Your email list should be completely opt-in. This means that the recipients of your email must have given their permission. Never purchase an email list. This reduces your sender authority and results in low deliverability rates.
Double informed consent signups are a significantly more efficient and accountable method of growing an email list.

Create an Email Subscription Form for Your Website
It's now time to start promoting your email list. Adding newsletter sign-up forms to your website is the simplest way to increase your subscriber base.
Typically, your email campaigns service will provide ready-made, pre-register forms which you can embed on your website.
However, these sign-up forms do not always look good and do not always fit in the container wherever you want to place them.
Adding an email sign-up form is generally simple and doesn't require any specialized coding skills. The homepage of your website is an excellent place to include a sign-up form for your newsletter. You can make a pop-up that appears when someone visits your page and/or a permanent form that appears in your header, footer, or elsewhere on the page.

Launch Your Newsletter Campaign 
Before launching into the real world, these letters have to undergo a spam and delivery test.
The spam test determines how your email ranks against popular spam filters, ensuring that your efforts are not wasted. These tests will help you identify the rendering of your emails. You can also check the launching of these letters in popular browsers.
But wait, how do you do these tests?
Some of the most popular tools include
HubSpot
Moosend Benchmark.
SendInBlue Sender.net
Stripo GetResponse
Simply navigate to the "Spam and Delivery Test" tab.
Receiving positive results? Your newsletter is now ready to launch!

Track your Results & Optimize Your Performance 
Marketing is all about data, and email newsletters are no exception.
Examine your A/B subject line tests to see what is enticing subscribers to open your emails; examine click-through rates to see what content is leading to additional engagement, and keep an eye on your subscriber count to see if it is increasing or decreasing.
Struggle a little to figure out the pitfalls of your letters if any.
Check to see if you met your objectives first, and then look at how each component of your campaign performed. Which subject line received the most clicks, and which content received the most click throughs?
Optimizing your campaign takes time and effort, and it becomes easier as you collect more data about your audience and gain more experience.

Other Key Recommendations:
Promote your newsletter across all social media platforms.
Do not overdo graphics and visuals.
Always clean your mailing list on a regular basis.
Focus on value first, sales later.
Have exclusive offers for your newsletter audience, thereby driving in more opt-ins.
Do not send too many emails – weekly is fine. Quality > Quantity.
Figure out ways to roll in feedback from your viewers.
🎉 And there you have it, folks — your very own email newsletter!
With this simple list of steps, you're ready to begin sending email newsletters that will add value to your subscribers' lives and subsequently polish your brand image.
Believe us – there's a high % of conversions that a well-structured newsletter strategy can bring in.
---
For more insights from the world of email marketing, checkout:
Shivyaanchi | Email Marketing Blogs